This was fun. Even the debugging was fun. Even though the example was once again naughty, at least for Part 2, this was fun. (If anyone's input creates a cube in the same way as the example, I'd like to know!)
Only one hint / comment from me: in part 2, at first I forgot to change orientation when moving from one face to another.
I thought about drawing the paths onto the map, but it's pretty late where I am, so maybe tomorrow. In lieu of that, here's an aid I made to help with Part 2.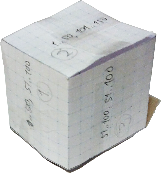 3 days left!